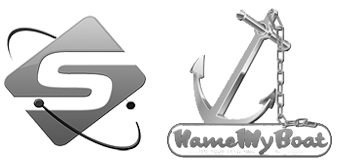 Hello and welcome to NameMyBoat.com (a division of SignSpecialist.com). We are excited that you stopped by.
NameMyBoat.com is your one-stop source for all of your boat lettering, striping and decal designs. Since 1998, our family-owned business has been helping folks just like you turn their boats into something to be proud of. Our success and reputation have been built on our customer's satisfaction and we continue to strive to not only meet but also exceed your expectations.
So take some time and explore our site and know we are just a phone call away if you need some help.
Easily Design Your Boat Transom Lettering
Waterproof vinyl lettering is easy to apply and will look great for many years to come. Ideal for sail boats or other larger boats (yachts) that have a transom area large enough for the name and port of your boat. However, this idea to "name my boat" is becoming more and more popular with all types of boats (fishing/bass boats, pontoon boats, speed boats, ski boats and even personal water crafts). For some of these smaller boats, many have started naming both port and starboard sides of their boats. Boat lettering comes pre-spaced with self-adhesive backing ready for an easy installation.
Either way, for the best prices for your boat lettering and name on your transom or port and starboard, check out our "design lettering online" section for Transom Lettering.
ALL Boat Makes and Models Lettering
Are you tired of your boat's look? Would you like to dress up that generic factory logo? Maybe add a splash of color and design to your boat that fits your style? Now you can right now, ONLINE! How does this work? After you find and click on your boat's Make below, you can customize and add lettering to your boat. Where can you add the lettering? Well just about anywhere above the water line - port, stern, transom, you name it. Will the lettering fit my boat? What will the size be? How about color? What color lettering will look best on my boat? Preview the Color and Size Online. Start designing and find out right now!
What's your boat's make and model? We have lettering made to fit your boat whatever your boat's make or model. From the common to the rather obscure model makers we have lettering that is made to fit. How so? You can design it yourself.
Pre-Made Boat Names
Plus hundreds more of designs >>
Would you like a cool boat name logo (not just boat lettering)? We'll we've already done the work for you! Browse through over a hundred boat names with cool logos at the very best pricing that can be found. After you've located the design you like you can customize the boat logo online - adding lettering and changing colors, shadows, outlines, and sizes. Get started Browsing these Boat Name Logos HERE.
Design Your Boat Registration Numbers
Vinyl Boat Registration "Numbers" are made from high performance Cast PVC film with special low initial tac adhesive to allow repositioning but yet still have excellent durability (Minimum of 5 year exterior life). All Boat Registration "Numbers" are the required 3 inch height and come in a matching pair (one for each side).

Detailed Installation Instructions Included

How will it look? Stop Guessing! Find out for sure, starting right here: